February 24, 2020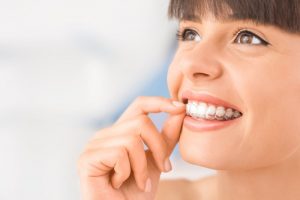 There's an alternative to wearing cumbersome metal braces to fix your bite: Invisalign in Richmond. The BPA-free clear-plastic braces are expertly designed to adjust your teeth in a discreet and comfortable manner, but there are some steps you'll need to take to ensure a successful treatment process and protect your oral health. As you continue reading, you'll get 5 key tips that are well worth implementing immediately!
#1 – Brush and Floss Daily
One of the major perks of Invisalign treatment is that the clear braces are removable. Thus, you'll be able to perform your normal oral hygiene activities. Just as a reminder, your routine should include brushing and flossing at least two times a day. This will help to remove debris and plaque from the surface of your teeth and the tight spaces between them. The payoff is that you won't have to worry about any cavity development.
#2 – Follow the 48-Hour Rule
When you first receive them, you should wear your Invisalign trays for 48 hours without any interruption, other than taking them out to clean them and your teeth. This will help your ivories adjust to the new orthodontic appliances and begin to shift.
#3 – Wear Your Clear Braces at Least 22 Hours Daily
Before your treatment with Invisalign starts, your dentist will map out a complete plan that will forecast how long your treatment will take to complete. To remain on schedule, you'll need to follow the protocol of wearing the trays for at least 22 hours a day to prevent any regression. The reward is that you'll get effective and faster results, which will also save you money!
#4 – Practice Talking with Your Clear Braces
When you first insert a new set of Invisalign clear braces, you can expect some speech challenges. In private, practice talking with the low-profile-designed trays. Therefore, when you interact with other people, there will be less chance of having a noticeable lisp.
#5 – Store Your Clear Braces Properly
Although Invisalign clear braces are sturdily made, they aren't infallible. Thus, they should only be stored in their designated container and at room temperature. This will prevent them breaking, warping or being lost.
With Invisalign, you now have an avenue to achieve the smile of your dreams. And better yet, you won't have to compromise your dignity to get the job done. By committing to the above suggestions, the process can be smooth, enjoyable and an overall success!
About the Author
Dr. William W. Way earned his dental degree from the Medical College of Virginia in Richmond. To maintain the highest standard of care and to stay abreast of the latest improvements in dentistry, he maintains professional membership with such organizations as the Virginia Dental Association and the Richmond Dental Society. Dr. Way provides Invisalign clear braces to straighten his patients' teeth and create gorgeous smiles at Westhampton Dentistry. He can be reached for more information through his website.
Comments Off on 5 Key Tips for Getting the Most Out of Your Invisalign Treatment!
No Comments
No comments yet.
RSS feed for comments on this post.
Sorry, the comment form is closed at this time.