Westhampton Dentist Providing Permanent Dental Implants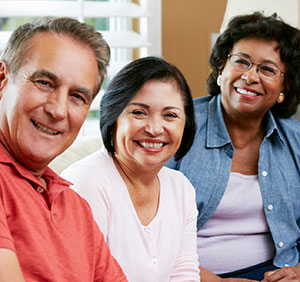 Do you have one or more teeth you need to replace? While a traditional bridge or denture will help you fill in the gaps left by missing teeth, only dental implants can give you results that will look and feel natural. That's because dental implants mimic nature's tooth-and-root design. This design ensures that you end up with beautiful, long-lasting results.
A full implant procedure is completed in two phases. During the first phase, one or more metal implants will be surgically placed in your jaw. Over time, your implant(s) will bond with your jawbone, creating a strong, stable foundation for your new tooth (or teeth).
In the second phase of your treatment, Dr. Way will attach your new restoration. Dental implants are versatile enough to work with everything from a single crown to a full denture. And with your procedure finally complete, you can look forward to fully restored function and appearance.
Not every patient is a good candidate for dental implants, though. During your initial consultation, Dr. Way will happily assess your health and recommend an alternative therapy if necessary. Call our Richmond, VA office to schedule your consultation visit.