Dental Implants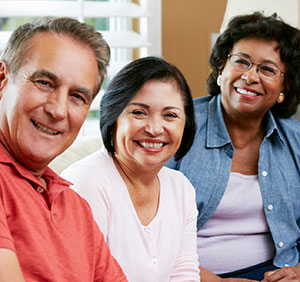 Do you have one or more teeth you need to replace? While a traditional bridge or denture will help you fill in the gaps left by missing teeth, only dental implants can give you results that will look and feel natural. That's because dental implants mimic nature's tooth-and-root design. This design ensures that you end up with beautiful, long-lasting results.
A full implant procedure is completed in two phases. During the first phase, one or more metal implants will be surgically placed in your jaw. Over time, your implant(s) will bond with your jawbone, creating a strong, stable foundation for your new tooth (or teeth).
In the second phase of your treatment, Dr. Way will attach your new restoration. Dental implants are versatile enough to work with everything from a single crown to a full denture. And with your procedure finally complete, you can look forward to fully restored function and appearance.
Not every patient is a good candidate for dental implants, though. During your initial consultation, Dr. Way will happily assess your health and recommend an alternative therapy if necessary. Call our Richmond, VA office to schedule your consultation visit.
Dental Implant FAQs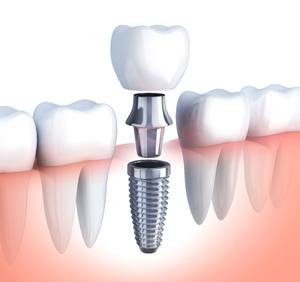 Even after reading about dental implants in Westhampton, you probably still have some questions. After all, implants involve a fairly complex procedure, and they are a pretty big investment in your smile, so you're going to want to be as informed as possible before making the decision to get them. So, we have answered some of the most common questions we get about dental implants down below. If you have a dental implant question that you don't see answered here, feel free to contact us and ask.
How Long Do Dental Implants Last?
Unlike your natural teeth, implants are not susceptible to dental diseases like decay. However, the health of your gums is vital to the success of your implants. This is why it's imperative that you brush and floss around the implant every day, and attend checkups with Dr. Way at least twice a year. Doing so can ensure that your implant lasts for decades. With proper maintenance, your implant could even last the rest of your life!
How Much Do Dental Implants Cost?
We can't give you a precise estimate of how much you'll pay for your implant because every case is different. The cost of your implants will depend on several factors, including:
Preliminary procedures like gum disease treatment or a bone graft
What type of restoration you're receiving (crown, bridge, or denture)
How many implants you're getting
Your individual insurance plan
As a result, it's impossible to answer this question without your coming in for an implant consultation.
Can Smokers Get Dental Implants?
Yes, but there are risks involved. The success of your dental implants depends on a process called osseointegration, where your implant fuses with your jawbone over a period of a few months. Smoking and chewing tobacco significantly slow down the oral healing process, making osseointegration more likely to fail. If you currently smoke and are considering dental implants, we strongly encourage you to quit.
What If I'm Missing All of My Teeth?
If you're missing most or all of your teeth, we're not going to place an implant for every individual tooth. Instead, four to six implants will be strategically placed throughout your jaw. Then, Dr. Way will restore your implants with a full denture. Since the denture will be retained by sturdy implants, it will not slip around when you talk or speak in the way that traditional dentures sometimes do. The restoration will fit firmly in your mouth for years to come!
Why Do I Need a Bone Grafting Procedure?
When it comes to the success of your implants, the amount of jawbone mass you have is a crucial factor. If you have been suffering through tooth loss for a long enough time, your jawbone begins to deteriorate from lack of stimulation from the roots of your teeth. Because of this, it will not be strong enough to support a dental implant unless bone tissue is grafted onto it. This procedure will add a few months of healing time to your implant journey, but the end result will be well worth it!