September 11, 2019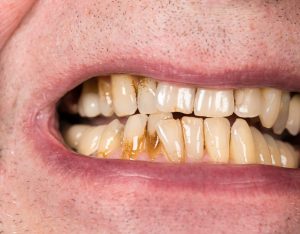 When you're speaking in front of a group of people or meeting a new acquaintance, the last thing you want to do is make a poor first impression. A smile flaw that can contribute to this happening, unfortunately, is teeth stains. The discoloration can cast a negative shadow by possibly limiting career advancement and placing a damper on your confidence. As you read ahead, you'll discover what causes discolored teeth, and you'll also learn how your cosmetic dentist can help to revitalize the way you look!
The Types of Teeth Discoloration
There are two primary types of teeth discoloration: extrinsic and intrinsic. The former occurs when the enamel (the outer layer of the teeth) receives white streaks, yellow tints or brown spots. Intrinsic discoloration, on the other hand, occurs when the inner structure of the tooth (called the dentin) darkens and displays a yellow or grey tint.
What Causes Discoloration?
The first step to overcoming teeth discoloration is to gain an understanding of its causes. Here are some of the leading culprits:
Aging – As the years go by, the enamel can begin to wear, which can reveal the yellowish dentin beneath.
Genetics – In some cases, people have teeth discoloration because they are genetically pre-disposed to having a thicker and brighter layer of enamel.
Medications – Antihistamines, antidepressants and high blood pressure medications can lead to tooth discoloration.
A Metal Restoration – When amalgam (metal) fillings are used to restore teeth, they can cause grayish-black marks over time.
Tobacco Usage – Not only does tobacco usage release caustic toxins in the mouth and the rest of the body, but it can also lead to dark stains developing.
Poor Oral Hygiene – When oral hygiene is not practiced on a consistent basis, one of the pitfalls can be tooth staining. As a preventive method, you should brush and floss at least two times a day.
Medical Conditions – There is a chance of people living with certain medical conditions experiencing dental discoloration. An example is with celiac disease, a gastrointestinal condition that can leave the teeth with yellowish, white or brown spots.
Food-Beverage Consumption – Highly pigmented foods or spices like cherries, blueberries or turmeric, and beverages like tea, wine and coffee are known for contributing to teeth discoloration.
How Teeth Whitening Can Help
Patients with discolored teeth don't have to settle for having an unfavorable smile. One of the ways they can rejuvenate their appearance is through professional teeth whitening.
If you're a person who enjoys convenience, then the at-home whitening method is perfect for you. Through the combination of high-powered bleaches and custom-designed trays to deliver the whitening gel, patients are able to see phenomenal results.
For the more stubborn stains usually associated with intrinsic discoloration, there are other alternatives available like porcelain veneers, porcelain dental crowns and tooth-colored dental bonding. To determine which procedure is best for you, reach out to your cosmetic dentist today to schedule an initial visit so your current condition can be assessed. Then, you'll receive an expert recommendation about which route is best to take – destination, beautiful new smile!
About the Author
Dr. William W. Way is a graduate of the Medical College of Virginia in Richmond. He has since gone on to provide 30 years of expert dental care to his patients. Dr. Way helps to put an end to tooth discoloration at Westhampton Dentistry, and he can be reached for more information through his website.
Comments Off on A Cosmetic Dentist Breaks Down the Causes of Teeth Discoloration
No Comments
No comments yet.
RSS feed for comments on this post.
Sorry, the comment form is closed at this time.