August 30, 2019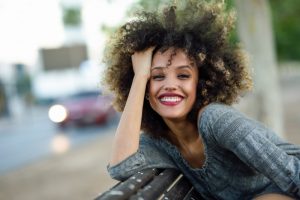 As you get older, your teeth endure more weathering. Over years of  dental emergencies and sipping on coffee, your teeth will begin showing signs of wear and tear like cracks, chips, and discoloration. Instead of having multiple different cosmetic procedures to fix each individual flaw, porcelain veneers can do it all in just a couple of appointments. Read on to learn more about this wonder-solution and whether it's the right choice for you.
What Can Veneers Do For You?
These thin, durable porcelain shells that are custom-fitted to conceal cosmetic imperfections by covering the visible portion of your teeth are the solution you've been looking for to enhance your grin. They can turn back the clock on decades of staining and dental damage caused by smoking, consuming certain foods and drinks, and trauma. This allows you to feel less self-conscious when you smile at someone you're meeting for the first time or carry on a lengthy conversation. They give you the confidence boost you've been needing in your professional and personal life.
What Makes a Good Candidate For the Procedure?
The best way to determine if they're right for you is to schedule a consultation with your cosmetic dentist. During this initial visit, they'll be able to walk you through the process and discuss what you'd like to accomplish with veneers. One of the reasons that porcelain veneers are so popular among patients is because they can correct a variety of issues, including:
Crooked and crowded teeth
Severe discoloration
Chips, cracks, and fractures
Gaps between teeth
Your dentist will examine the health of your teeth and gums to see if you can benefit from the procedure and check for signs of cavities or gum disease. These may need to be treated before you can begin the process of getting veneers.
How is Dental Porcelain So Special?
One of the things that makes dental porcelain such a great material to use is because it has a variety of properties that nearly perfectly mimics your natural teeth. It blends in with your mouth and provides you with a completely natural-looking solution to repairing flaws. Porcelain is used in this procedure because it's non-porous and stain-resistant, lasting for decades when properly cared for.
Each individual shell can be crafted to match the appearance of your existing teeth, and the color of it is hand-selected to blend into the rest of your mouth. While veneers may have a higher up-front cost, they offer so many benefits that make them well worth the investment. The results you get are spectacular, restoring your smile into a trait that you'll be excited to be able to show off.
To learn more about the process and whether porcelain veneers are the right cosmetic treatment for you, don't hesitate to schedule a consultation with your cosmetic dentists. This wonderous solution can transform your smile along with your life!
About the Author
Dr. William Way is passionate about continuing his family's tradition of providing high-quality dental care. He is an active member of several professional organizations including the American Dental Association. This allows him to keep up-to-date with the latest advancements in his field. He offers his patients comprehensive care including a variety of cosmetic services like porcelain veneers and professional teeth whitening. For questions or to schedule a consultation, visit Westhampton Dentistry's website or call 804-288-0948.
Comments Off on Are Porcelain Veneers Right For You?
No Comments
No comments yet.
RSS feed for comments on this post.
Sorry, the comment form is closed at this time.