May 6, 2019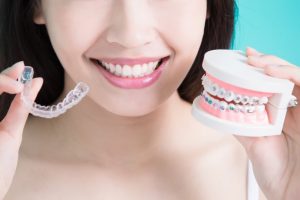 Do you dream about having a beautiful straight smile, but don't want to go through the awkwardness of braces? Invisalign might be a good choice for you! Discreet aligners can fix your smile virtually undetectably. There are no painful metal wires and brackets. Read on to learn whether you would be a good candidate for Invisalign.
What is Invisalign?
Invisalign is a set of clear, almost invisible aligners that you wear over your teeth. Your dentist will take impressions of your teeth and create a set of aligners that will gradually straighten your smile. They are much more comfortable and convenient than traditional braces.
What Problems Can Invisalign Fix?
If you have severe orthodontic issues, it might be best to go with traditional braces. However, Invisalign is perfect for mild to complex cases of:
Gapped teeth
Overly crowded teeth
Underbite
Overbite
Open bite
Only your dentist or orthodontist can know whether or not your problems are best solved by Invisalign. If you're not sure of the severity of your case, contact them.
What are the Best Ages for Invisalign Treatment?
Children are still going through changes, including in their smile. It can be hard to predict what their teeth will look like in the future. That's why it's recommended to wait until a patient is at least 13 before getting Invisalign. By then, their teeth have typically finished developing.
Teenagers may prefer the look of Invisalign over the awkwardness of metal brackets and wires. Middle school and high school are hard enough without having to deal with braces. Invisalign allows teenagers the option to fix their smile without most people noticing.
How Dedicated Are You to Invisalign Treatment?
With the convenience of Invisalign, it can be easy to forget that they require effort on your part in order to work. They should be removed when eating, drinking (anything besides water), brushing, and flossing. However, they need to be on at least 22 hours a day, or you could end up compromising treatment.
If you're the type of person to set down your aligners and forget where you put them, Invisalign might not be a great option for you. You should consider braces instead. They might be more noticeable and uncomfortable, but at least you won't leave them behind.
Once your Invisalign treatment is over, your dentist or orthodontist might recommend wearing a retainer at night. This prevents your smile from shifting back to its natural state and undoing all the work you just did. Not only do you have to be committed to your straighter smile during Invisalign treatment, but you also must remember to practice whatever aftercare your doctor prescribes.
Invisalign is a great alternative to braces, but it isn't the best choice for everyone. The only person who can determine which treatment is right for you is your dentist or orthodontist. When in doubt, contact them and they can help you get started on your journey to a beautifully straight smile!
About the Author
Dr. William Way has practiced at Westhampton Dentistry, founded by his father, for 30 years. He pursues continuing education to stay up to date on the best ways to provide patients with healthy and beautiful smiles. He is also certified in Invisalign and can help you achieve the smile you have always wanted. To learn more, click here or call (804)-288-0948.
Comments Off on 3 Ways to Know If Invisalign is Right for You
No Comments
No comments yet.
RSS feed for comments on this post.
Sorry, the comment form is closed at this time.