February 19, 2019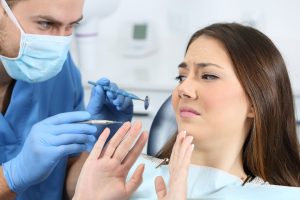 Does the idea of walking through the doors of the dentist's office fill you with dread? According to research reviewed by faculty at the Columbia University College of Dental Medicine, up to 15% of U.S. adults avoid visiting the dentist because of anxiety and fear – that is nearly 40 million people! A dental appointment does not have to be an uncomfortable experience. Keep reading to learn more about dental anxiety and phobia – and how to overcome it.
What is Dental Anxiety and Phobia?
Although there is no clear boundary between dental anxiety and dental phobia, the terms do have slightly different meanings. Individuals with dental anxiety feel a sense of uneasiness or stress when it's time to visit the dentist for a routine checkup or dental procedure. Those with dental phobia, on the other hand, experience intense feelings of overwhelmingly dread or fear at the mere thought of going to the dentist.
Both dental anxiety and phobia can negatively impact a person's oral health by preventing them from seeing a dentist and receiving the oral care they need.
Some common signs of dental anxiety and phobia include:
Trouble sleeping the night before a dental appointment
Feeling stressed or nervous while sitting in the waiting room at the dentist's office
Feeling like crying or feeling physically ill at just the thought of visiting the dentist
Feeling a sense of panic when oral care instruments are placed in one's mouth during a dental exam
How to Overcome Dental Anxiety and Phobia
Here are some of the most common causes of dental anxiety and phobia – and tips on how to overcome them.
Fear of pain – If you are particularly sensitive to pain or are just afraid a dental procedure will be painful, ask your dentist about sedation dentistry. Nitrous oxide, IV sedation, and oral conscious sedation are all modern options to put you at ease during dental checkups or procedures.
Feelings of helplessness or loss of control – Discuss these concerns with your dentist before sitting down in the dentist's chair. During the appointment, raise your hand if you need to take a short break.
Bad experience in the past – An unpleasant experience can make it difficult to want to go back to the dentist's office. If you still go to the same dentist, have an honest conversation with him or her about your concerns so they can address them before your next appointment. Or, ask for recommendations from friends or coworkers for a new dentist that will put you at ease.
Embarrassment – If you haven't cleaned your teeth in years, you may feel embarrassed by the state of your smile. But consider this: your dentist has seen it all! He or she will not be phased by your teeth, so neither should you.
Don't let stress or anxiety get in the way of your oral health! Partner with a dentist who understands your unique needs and concerns and can help you relax at your next appointment.
About the Author
With over 30 years of experience, Dr. William Way knows how to put patients at ease from the moment they walk through the door. The Richmond understands that each patient is unique and works hard to craft a dental care plan that suits their individual needs and concerns. Patients old and new can contact Dr. Way via the Westhampton Dentistry website or by calling 804-288-0948.
Comments Off on A Dentist Discusses Dental Phobia – And How to Overcome It
No Comments
No comments yet.
RSS feed for comments on this post.
Sorry, the comment form is closed at this time.