April 27, 2018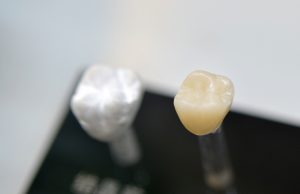 If you're like most people, time is your most precious asset! We know that hearing that you need a crown isn't your favorite news of the day, but fortunately, modern dentistry has made dental crowns in Westhampton easier and faster than ever with CEREC (Chairside Economical Restoration of Esthetic Ceramics).
Also called same-day crowns, you won't need to schedule two separate appointments. With this option, you only have to come in once! In this blog, we'll talk about how it works and why it's better than a traditional crown, so keep reading to learn more!
How Do CEREC Crowns Work?
Also called a "cap," a crown is a strong, durable artificial tooth that restores a damaged tooth's shape, size, function and appearance.
One of the main advantages of CEREC is that you only need to come in for one visit. Here's how the process works:
After making sure that you're numb and comfortable, your dentist will remove any damaged tooth structure and reduce your tooth in size to "prep" it for the crown.
Instead of taking messy or uncomfortable impressions, your teeth will be digitally scanned and the information will be loaded into a computer program that uses CAD (computer-assisted design) to precisely design your crown.
Located right there in the dental office, a CEREC machine will mill your new crown out of a strong, durable ceramic material.
Your new crown will be matched in shape, size and color to your existing teeth, so it looks and feels completely natural.
Finally, your new permanent crown will be cemented into place. Your dentist in Westhampton will check your bite and make any necessary adjustments – and you're done!
How Can a CEREC Crown Benefit You?
In addition to saving you the time and hassle of two appointments, here are some of the other benefits of this fantastic technology:
Cost-effective – You'll be glad to know that you won't pay more for the convenience of CEREC. They're about the same prices as traditional crowns!
Success rate – The success rate is very high, so your CEREC crown will function for many years to come with basic care and maintenance.
Esthetics – You also don't have to trade esthetics for convenience. With all-white, ceramic CEREC crowns, there's no metal that will show when you smile or laugh.
Strength – Your restoration will be just as strong and durable as a lab-fabricated crown.
In today's hectic, busy world, you'll appreciate restoring your tooth with a one-visit CEREC crown that makes life a little easier!
About the Author
Dr. William Way is a general, restorative and cosmetic dentist who is has been serving his community for over 30 years. He knows how valuable his patient's time is and loves being able to offer outstanding, quality crowns in just one appointment. If you have any questions, he can be reached via his website or at (804) 288-0948.
Comments Off on You'll Like Same Day Dental Crowns in Westhampton!
No Comments
No comments yet.
RSS feed for comments on this post.
Sorry, the comment form is closed at this time.