March 2, 2018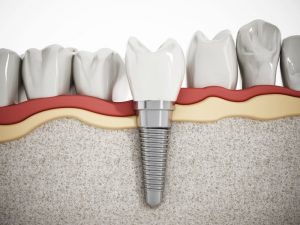 Did you know that dental implants have a high success rate? So much so that over 95% of patients who undergo implant placement are successful! But what makes these statistics so high? Post care from the procedure is the key to maintaining a secure, successful dental implant for years to come!
Learn more about dental implants in Westhampton and how to properly care for them in this week's blog post.
Your Implant's Success Depends on Your Hygiene and Habits
As mentioned above, dental implants are typically successful when placed by a professional that can advise you on the best way to care for your new teeth. The healing process is extremely important, so be sure to follow your dentist's directions carefully!
Your dentist in Westhampton will mention keeping the area clear of infectious material, especially when healing. Since implants are a way to secure dental prosthetics to your jaw permanently, they need proper time to fuse with the body without materials ruining the bond.
To keep the area clean, you should brush your teeth as normal and floss. Be sure to drink lots of water and keep the area clear of food and other debris. Your dentist will also highly-recommend quitting all tobacco habits as that's the number one reason for implant failure because of the harsh chemicals that tobacco products contain.
Once the implant post is fused with your jaw, you'll care for your new tooth as if it was another part of your natural smile. Y
Regular Maintenance for Dental Implants
A healthy mouth is essential to your dental implants success and vise versa. Without strong gums and a durable jawbone, your implants cannot last your lifetime as they should. You can avoid this problem by practicing these implant care tips:
Brush and floss all your teeth.
Maintain a balanced diet.
Use a soft toothbrush to avoid damage.
Quit tobacco use altogether.
Your dentist will help you keep your new smile strong and stable, too! Visit with them to complete dental checkups and exams as well as professional deep cleanings. Each time you visit your local office for an appointment, your dentist will be sure to check on your implants and explain any helpful tips for caring for dental implants.
Are you ready to move forward with implant placement? Learn more about what to expect by contacting your local practice.
---
About Our Office
Here at Westhampton Dentistry, we believe in having a complete smile no matter what. Keeping your mouth full of functional teeth not only helps with confidence, but it improves oral health (and your whole body's well-being) as well. Even if you've had missing teeth, you can explore restorative care with our dental professionals during a scheduled consultation. Give us a call today to book your next visit.
Comments Off on How Are Dental Implants in Westhampton So Successful?
No Comments
No comments yet.
RSS feed for comments on this post.
Sorry, the comment form is closed at this time.