February 2, 2018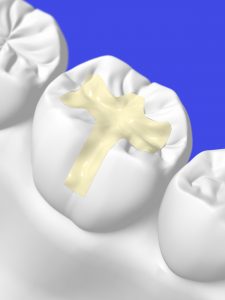 In the past, when you thought about receiving dental fillings to restore a tooth to its normal state, you would probably envision a shiny piece of metal that could be seen when you open your mouth, signaling to the world that tooth decay occurred in the area. Your local dentist says things have changed, though, and you now have more options for fillings. Learn what they are and which one offers the greatest advantages as you continue reading.
What is a Dental Filling?
A filling is used to restore a tooth in cases where bacteria have left holes in the enamel that have not yet reached the inner portion of the tooth (where the canals, root and nerves are). Thus, the filling can be placed to build up the tooth's material so that it can be fully functional again.
There are several different types now available, including:
Amalgam – This is the traditional version that uses 50% mercury, along with tin, copper, silver or zinc. It has been an attractive option because of its low cost and perceived strength.
Composite – One of the more recent advances involves the composite filling, typically made from a mixture of powdered glass and acrylic resin. It differs from the amalgam style in that it can be shaded to match the color of your teeth and is bonded to the affected ivory, strengthening and protecting it from decay.
Gold – As you may have assumed, this option can be rather expensive, but you can expect a gold filling to last 20 years or more.
Porcelain – Taking the porcelain route can be expensive as well. They offer a natural look; however, they can be fragile.
Resin or Glass Ionomer – If your young children, who still have primary teeth, develop cavities, resin or glass ionomer fillings can be used. This option is chosen because it can address decay in small areas and will accommodate the type of wear that's expected from a child.
Which Method Does Your Dentist Prefer?
Your local dentist will now go further in depth about why he prefers metal-free fillings:
Aesthetic Appeal – When it comes to visual appeal, the winners are the composite, porcelain and resin options because they deliver a look that is the closest to that of your natural teeth.
Strength – A common misconception is that amalgam fillings are the strongest because of their mixed metal ingredients. The truth is that composite fillings are actually more durable due to the fact that they are bonded directly to your tooth.
Protection – The direct bonding process also protects your tooth from bacteria and decay that can't be matched by amalgams because they can weaken over time. And when they do, they leave openings for problems to occur like infection.
Conservation – Your dentist aims to maintain as much of your natural tooth as possible. This is better accomplished using the composite resin method than an amalgam filling. The reason is that the latter requires drilling deeper into the tooth to prepare it to be filled.
So the days of feeling like you have to suffer from having foreign looking fixtures in your mouth are gone. When using a tooth-colored filling like the composite resin option, you will not only gain a better looking restoration but a stronger, long-lasting one as well. To learn more about the process, just contact your local dentist today.
About the Author
Delivering care for over 30 years, Dr. William W. Way earned his dental degree from the Medical College of Virginia in Richmomd. He offers general, restorative and cosmetic dentistry from his Westhampton Dentistry practice and can be reached for more information through his website.
Comments Off on Your Dentist in Richmond Discusses Alternatives for Fillings
No Comments
No comments yet.
RSS feed for comments on this post.
Sorry, the comment form is closed at this time.