May 22, 2020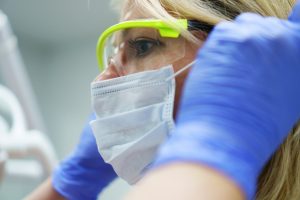 Only a few months ago, you wouldn't have thought twice about your next visit to the dentist. However, due to the recent COVID-19 pandemic, patients across the board are feeling fear and uncertainty about potentially being put at risk of contracting the coronavirus.
Fortunately, dental practices are revamping their safety protocols to lower the exposure to germs and incorporate new guidelines mandated by each state and county. Here is an insight into those specific measures being taken from an emergency dentist.
5 Protocols to Expect at Your Next Visit
Even before the COVID-19 pandemic, dentists were at the forefront of infection control by wearing personal protective equipment, like masks and gloves, and making sure their office was clean and sterile. Now, those measures are being taken to a whole new level with these five protocols.
Designated safety coordinator – According to the Occupational Safety and Health Administration, a safety coordinator must be assigned to oversee and implement the required safety program guidelines. With this title, they will be responsible for supervising equipment operation, posting safety signs and warnings, and executing a culture that is built on safety for patients and team members alike.
Social distancing guidelines – Applying social distancing practices is crucial to flattening the curve. While it is inevitable that you and your dentist will breach the mandated 6-foot distance, it is important to maintain that distance between yourself and other patients and team members throughout your visit. This will begin the moment you arrive by calling the office to let them know that you have arrived, washing your hands before entering the facility, and wearing a mask unless specifically instructed not to.
Rules regarding clothing – For the dentist and their staff, guidelines regarding work clothing have also seen a change. To protect their patients and their families, they are expected to always have a clean set of scrubs on hand, leave jewelry and nonessential accessories at home, opt for glasses over contacts to reduce frequency of eye touching, and make sure shoes are wiped down to prevent the spread of germs.
Additional personal protective equipment – Infection control measures, like masks and gloves, have been a routine part of dentist visits for decades. However, since COVID-19 has created a high-risk environment, the recommended PPE has been increased. This includes face shields and lab coats that cover the entirety of the skin's surface.
Routine temperature checks – Signs reminding patients and staff members to not enter the premises if they are experiencing symptoms will be visible throughout the office. However, additional measures, like taking the temperatures of anyone entering the office, will also be applied to decrease the likelihood of spreading the infection.
How You Can Help
Dentists and their teams are doing everything in their power to ensure a safe visit for you and your family. Whether it is a routine check-up or dental emergency, it is important to do your part in creating an environment that is as close to germ-free as possible. Here are a few steps you can take to help make that possible.
Call before your next visit to touch base on what you can expect.
Let your children know what is expected of them and what their visit will look like.
Follow all rules regarding wearing masks, washing your hands, and having your temperature taken.
Reschedule if you or a loved one is sick.
Navigating through this new normal that COVID-19 has created can feel overwhelming and scary. However, dentists across the U.S. are taking every measure available to create a safe environment so that your next visit can be as stress-free as possible!
About the Author
Dr. William Way has a doctoral degree from the Medical College of Virginia in Richmond and is a current member of the American Dental Association and the Virginia Dental Association. Through general, restorative, and cosmetic dentistry, Dr. Way is able to provide his patients with the latest advances in dentistry combined with the incredible service he is known for. If you have any questions about this blog, don't hesitate to visit his website or contact his office by phone at 804-288-0948.
Comments Off on How Your Dental Team Prepares for Your Visit During the Covid-19 Pandemic
No Comments
No comments yet.
RSS feed for comments on this post.
Sorry, the comment form is closed at this time.