April 29, 2020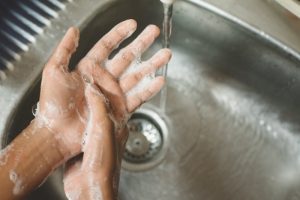 Due to the COVID-19 pandemic, most dental practices are only taking emergency patients. However, even when you're faced with a dental emergency like a severe toothache or a broken tooth, you might be a bit apprehensive about seeing your dentist. After all, how can you be sure that their office is kept clean? Not to worry; your dentist makes sure to implement the following protocols from the CDC in order to keep their practice as sterile as possible.
Hand Hygiene
The number one way for dental healthcare professionals to prevent the spread of germs, including COVID-19, is to practice proper hand hygiene. This is done by washing hands in the following situations:
After touching instruments barehanded that may be contaminated by bodily fluids like saliva or blood
When hands become visibly soiled
Before and after treating each patient
Before placing gloves on and after removing gloves
Your dentist and their team will make sure to use soap and water to thoroughly wash their hands if bodily fluids have been involved. In some situations, they may use an alcohol-based hand rub instead.
Protective Personal Equipment
Protective personal equipment (PPE) describes any wearable equipment that protects dental healthcare professionals from coming into contact with germs. Some examples of PPR include gloves, masks, eye protection, and protective clothing. Your entire dental team will be properly educated on how to wear these items and how they prevent the spread of germs. The staff at your dentist's office will make sure to replace their gloves after treating every patient to keep one patient's germs from being spread to the next one, and perform hand hygiene after taking the gloves off.
Respiratory Hygiene
Respiratory hygiene, also called cough etiquette, is meant to limit the transmission of germs through droplets that are created when someone sneezes or coughs. Near the front of their office, your dentist should have placed a sign with suggestions for patients to cover their mouth when they need to cough or sneeze. If you have to, make sure to cough or sneeze into your elbow and not your hand, as that could spread germs when you touch something, especially your face. Your dentist might offer masks or gloves to any patients with any symptoms resembling COVID-19.
Dental practices all across the country follow these health and safety protocols to a T. As a result, you shouldn't have to worry about catching COVID-19 just because you need to visit your dentist for an emergency.
About the Author
Dr. William Way is a dentist in Richmond, VA who earned his doctorate from the Medical College of Virginia in 1987. He then continued practicing at the office established by his father in 1946. While his practice is currently only taking emergency patients, you shouldn't be afraid to get your toothache or broken tooth treated. For quick and easy dental pain relief when you need it, contact Dr. Way's office at (804) 288-0948.
Comments Off on How Your Dentist Keeps Their Office Clean During COVID-19
No Comments
No comments yet.
RSS feed for comments on this post.
Sorry, the comment form is closed at this time.