July 31, 2019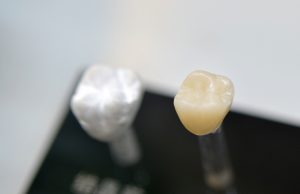 You go in for your regular dental checkup. Or maybe you go in because of a toothache. Maybe you chipped a tooth during a sports game. Whatever the case may be, you still cringe when you hear the news: you need a dental crown. Your heart races when you imagine the potential pain of this unknown procedure. However, the crown process should not hurt at all, especially with new CEREC technology. Read on to learn more.
How CEREC Crowns Work
CEREC is short for CEramic REConstruction, because that is exactly how the crowns are made. In the old days, you had to be fitted with a temporary crown while your traditional one was crafted in the lab. But with CEREC, there's no need for a temporary. Your permanent crown will be created right in your dentist's office in less than an hour. In just one appointment, your new addition to your smile will be good to go!
Do CEREC Crowns Hurt?
Before your procedure, your dentist should apply a local anesthetic to the area to make it nice and numb. At most, you may feel a gentle pressure on your tooth. You may be sore for a few days afterwards as your mouth adjusts to the new crown, but it should never cause you any outright pain.
What Are the Benefits of CEREC Crowns?
There are many advantages to getting a CEREC crown over a traditional dental crown, such as:
Just one appointment. Regular crowns need two visits to your dentist's office, which means you have to take more time out of your busy schedule. CEREC allows you to get back to your normal schedule a lot sooner.
Longer lifespan. Instead of pressed ceramic and metal, CEREC uses a single block of solid ceramic materials to craft a crown. This means it can withstand more chewing, allowing it to last around 10 to 15 years with regular brushing, flossing, and dental checkups.
Digital impressions. To make a bite impression for normal crowns, you have to bite down into sticky, uncomfortable putty. By scanning your mouth with a tiny camera, CEREC impressions are much more accurate and less messy.
Virtually unnoticeable. CEREC crowns can be more easily shaded to match the color of your surrounding teeth. They will seamlessly blend in with the rest of your smile.
Crowns, especially CEREC crowns, shouldn't hurt at all. In fact, they should help alleviate the pain of a toothache and protect your tooth from further discomfort. If you need to get a dental crown, you don't need to worry one bit.
About the Author
Dr. William Way received his dental degree from the Medical College of Virginia in Richmond. He has been practicing dentistry for more than 30 years now! To learn more about how easy and painless the CEREC crown process is, click here to contact Dr. Way, or call (804)-288-0948.
Comments Off on Is Getting a CEREC Crown Painful?
No Comments
No comments yet.
RSS feed for comments on this post.
Sorry, the comment form is closed at this time.