June 12, 2019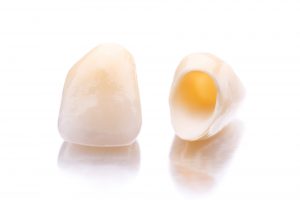 No one wants to spend more time at the dentist's office than they must. That is why CEREC dental crowns are growing increasingly popular with patients as a way to protect and preserve the shape, size and function of a damaged or decaying teeth. With CEREC, your dentist can craft a durable and attractive crown on the same day as your initial appointment – usually in about just one hour! No temporary crowns or follow up appointments necessary. However, with treatment so fast, you may be left wondering what comes next. Below are some common questions and answers regarding post-CEREC dental crown placement.
What is a CEREC Dental Crown?
First, let's review exactly what is a CEREC dental crown. CEREC, which stands for Chairside Economical Restoration of Esthetic Ceramics, is innovative technology that combines computer design and modeling programs with an all-in-one milling unit to create high-quality dental restorations right in a dentist's office. With traditional dental crowns, patients often have to wait weeks for their restoration to be created in a dental lab. In contrast, CEREC technology can craft a new crown from a ceramic block that perfectly matches your smile, all in a single visit to the dentist!
Is Feeling Numbness Normal?
A local anesthetic is often used to prevent discomfort during the dental crown procedure, so a patient may still experience numbness in your mouth for several hours after you leave the dentist's office. Patients are recommended to avoid drinking hot beverages or chewing on hard foods until the numbing effect has completely subsided to avoid accidentally burn their mouth or biting their tongue or lip.
In addition, patients may experience some slight bruising and inflammation at the site of the anesthetic injection. This should go away on its own without any additional treatment needed.
Will I Feel Pain After the CEREC Procedure?
Most patients experience some mild pain or discomfort near the treatment area for a few days or weeks following a dental crown procedure. To reduce pain and swelling, a dentist may recommend rinsing one's mouth with warm salt water three times a day. In addition, over-the-counter pain medication such as ibuprofen can help ease any residual discomfort.
Keep in mind that it will take a bit of time to adjust to the feel of a new bite. However, if a patient's bite still does not seem right after a week, they should contact their dentist and ask him or her for a reevaluation. In some cases, the crown may need to be adjusted to properly fit the shape of their mouth.
What Can I Eat After Getting a CEREC Crown?
After the numbing effect of the anesthetic has worn off, the patient should be able to get back to eating almost all their favorite foods as normal. However, it is recommended that patients avoid extremely hard foods and sticky candies.
In addition, to keep the crown looking like new, patient's should refrain from smoking tobacco and avoid foods and drinks that stain such as black coffee or tea, red wine and certain berries.
Can I Still Brush Normally?
Natural teeth capped by crowns, including CEREC crowns, are still susceptible to decay – particularly along the gum line. For this reason, it is important that patients maintain excellent oral hygiene by brushing twice a day for a full two minutes each time and flossing once daily. In addition, every patient should visit a dentist in Richmond every six months for a routine dental exam and professional cleaning.
Speaking of visiting a dentist, if you have a damaged or a decaying tooth that needs to be restored, talk to a dentist about convenient CEREC dental crowns today! You can avoid the extra hassle of a temporary crown and follow up placement appointment with this advanced dental technology.
About the Author
With over 30 years of experience, members of the Richmond community know they can turn to Dr. William Way and the team at Westhampton Dentistry for all their oral care needs. A second-generation dentist, Dr. Way offers CEREC dental crowns so his patients can save time and money while still protecting their smile. For more information about CEREC one day dental crowns, visit the Westhampton Dentistry website or call Dr. Way at (804) 288-0948.
Comments Off on What to Expect After Getting a CEREC Dental Crown
No Comments
No comments yet.
RSS feed for comments on this post.
Sorry, the comment form is closed at this time.